BOATS AVAILABLE IN CHIAPAS


| | | | | | |
| --- | --- | --- | --- | --- | --- |
| TYPE | MODEL (TUBES) | Color | FRAME | YEAR | CONDITION |
| Raft | 5.0m (16.4') self-bailer; drop-stitch floor (GGC) | blue | NRS Bighorn II frame | 2017 | excellent |
| Raft | 5.0m (16.4') self-bailer; drop-stitch floor (GGC) | blue | NRS Compact Outfitter frame | 2017 | excellent |
| Raft | 16' self-bailer; I-beam floor (SR) | red | NRS Compact Outfitter frame | 2014 | good |
| Raft | 16' self-bailer; I-beam floor (SR) | yellow | NRS Compact Outfitter frame | 2014 | good |
| Raft | 16' self-bailer; I-beam floor (SR) | blue | NRS Bighorn I frame | 2014 | OK |
| Raft | 5.0m (16.4') cataraft (SR) | blue | NRS Universal cat frame | 2017 | new |
| Raft | 16' cataraft (NRS) [hypalon] | blue | NRS cat frame | 2000 | excellent |
| | | | | | | | |
| --- | --- | --- | --- | --- | --- | --- | --- |
| TYPE | MODEL | COLOR | WEIGHT RANGE | YEAR | CONDITION | GRADE | |
| Kayak | Dagger Nomad 8.1 | solar | 140-220 lb | 2013 | excellent | G1 | |
| Kayak | Dagger Mamba 8.6 | lime | 120-170 lb | 2010 | excellent | G1 | |
| Kayak | Wavesport Diesel 80 | red | 140-230 lb | 2014 | excellent | G1 | |
| Kayak | Pyranha H3 (245) | red | 100-200 lb | 2012 | good | G1 | |
| Kayak | Prijon Rockit | orange | 100-200 lb | 2000 | excellent | G2 | |
| Kayak | Prijon Rockit | red | 100-200 lb | 2000 | excellent | G2 | |
| Kayak | Necky Jive | orange | 100-170 lb | 2000 | excellent | G2 | |
| Kayak | Dagger Infrared | blue | 100-180 lb | 2000 | excellent | G2 | |
| Kayak | Wavesport Extreme | grey/purple | 120-220 lb | 1998 | excellent | G2 | |
| | | | | | | | |
| canoe | SOAR 16' inflatable canoe | blue | 120-260 lb | 2012 | excellent | G1 | |
| IK | Tributary Tomcat II | red | 100-280 lb | 2013 | excellent | G1 | |
| IK | Neptune IK (tandem) | yellow | 100-280 lb | 2014 | OK | G2 | |
| IK | Neptune IK (tandem) | yellow | 100-280 lb | 2014 | leaks | G2 | |
Rentals of kayaks are availble to rent to members and include a paddle. Contributions for joining a normal SierraRios trip includes a kayak for competent paddlers. On such trips, the participant can paddle it most or all of the time. They will be used for other trips in the future and may be availble to rent to members.
You might consider bringing your own kayak or inflatable kayak. You will get a discount on a normal SierraRios trip, especially if the boat is needed (i.e. the boats available are not occupied). We may even purchase from you afterward.

There is a lot of other gear in Chiapas. Below are some pictures.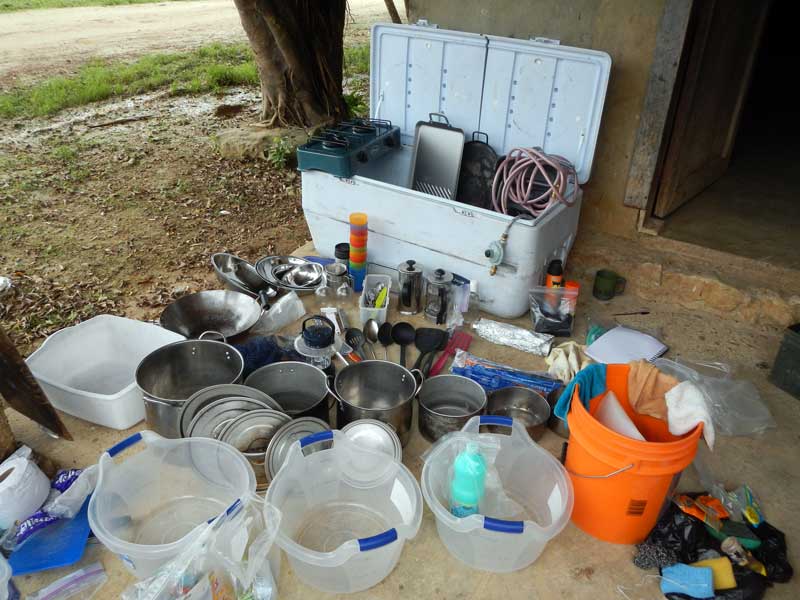 Kitchen box contents: pots, griddles, 2 stoves, serving spoons, spatulas, lantern, 2 French presses, serving bowls, bowls, plates, utensils, cups, wash tubs, dishwashing items.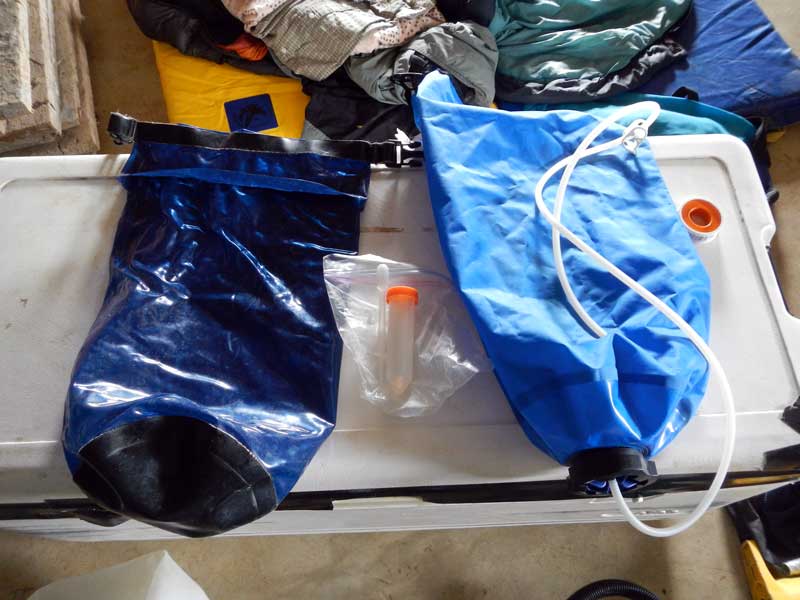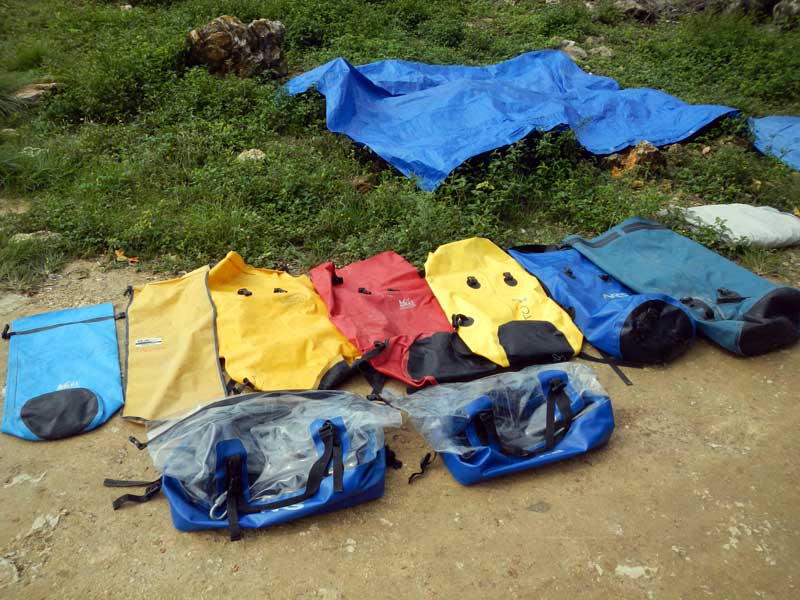 Water purification items (bleach with dropper; gravity filter); Drybags.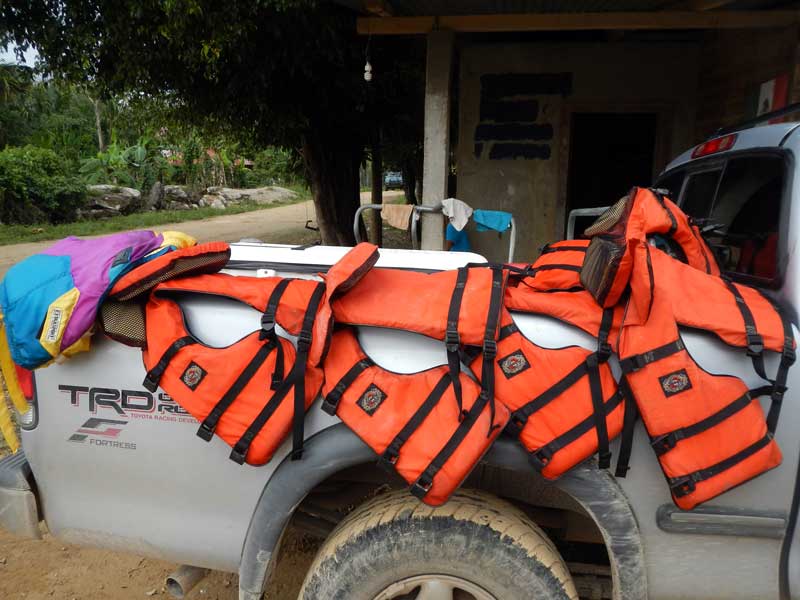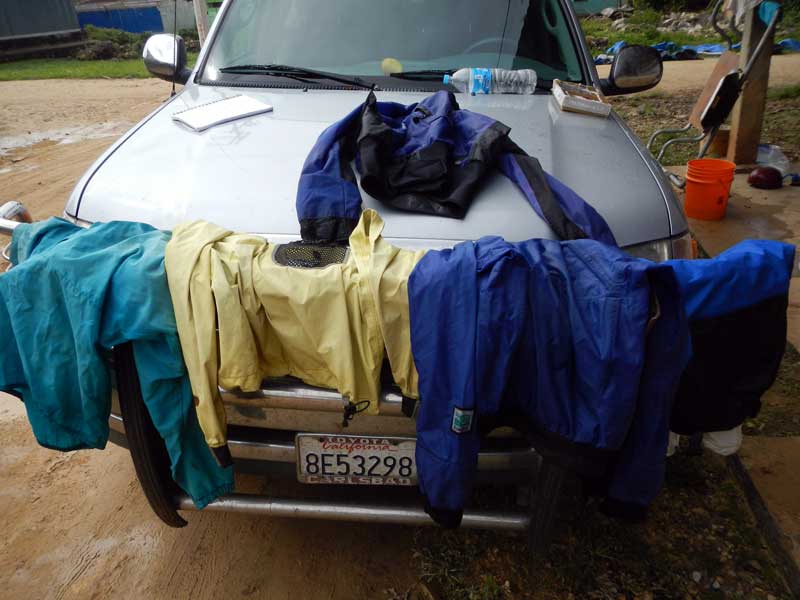 Some of the numerous PFDs available and paddle jackets.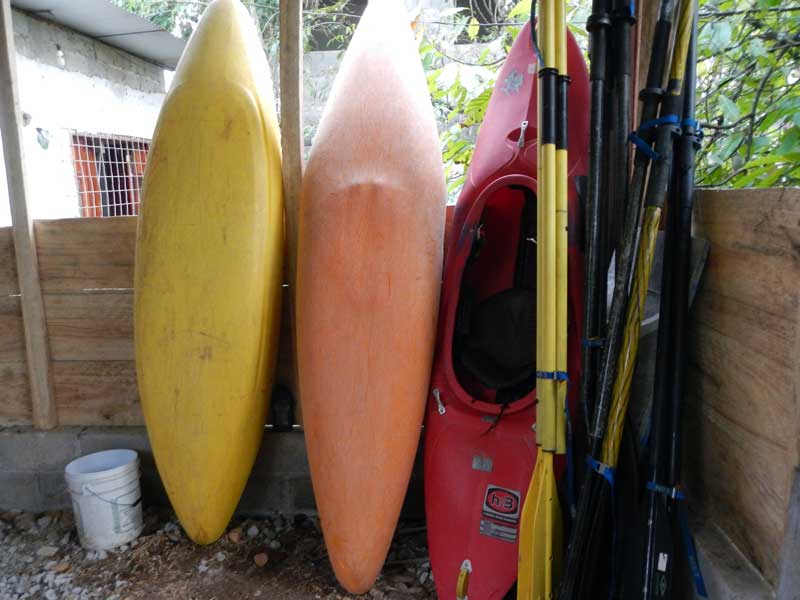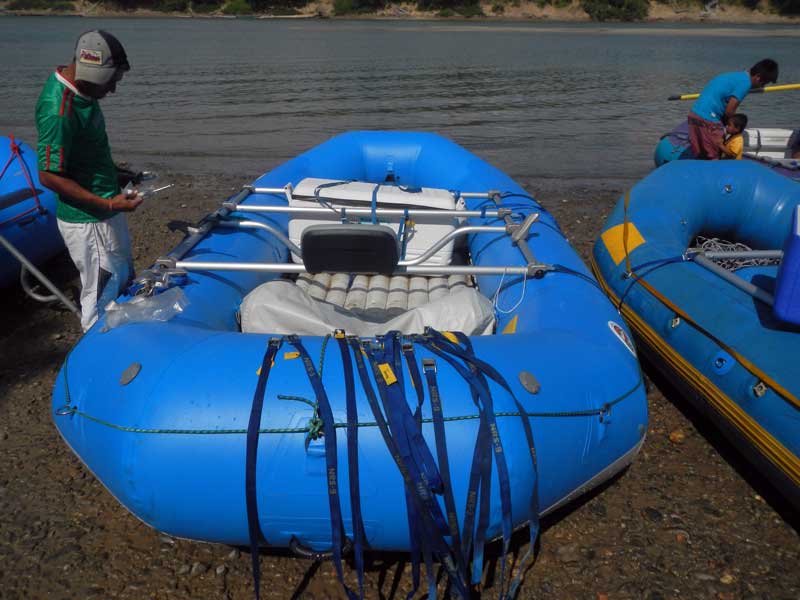 A few of the kayaks available (Gus, Rockit, H3). And the brand new 16' Rocky Mountain Raft (to right is 16' Hyside).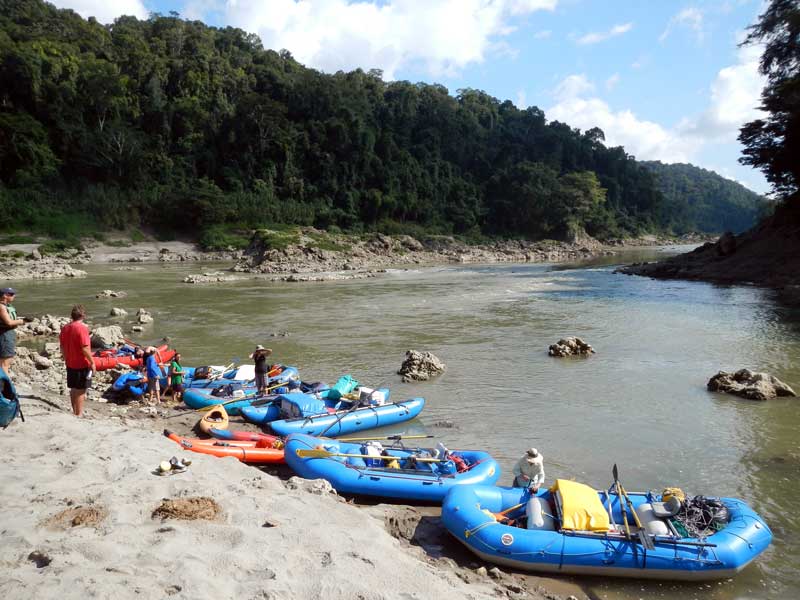 Several of the rafts available at the Usumacinta (from bottom up): 16' Rocky Mountain, 14' NRS self-bailer, 16' NRS cataraft (middle), 14' Sotar, 16' Sotar (uppermost blue). Note the 14' NRS and 14' Sotar may not always be available.