* G1 kayak : refers to "Grade 1", which is a current model or very recent model kayak in excellent shape. Kayak rentals include a paddle of similar grade. All kayaks may need additional outfitting before use to make snug fits and be sure all bolts and pieces are present and snugly in place. A G1 paddle refers to a kayak paddle with MSRP >$200.
* G2 kayak : refers to "Grade 2", which is an older model kayak in excellent shape or a recent model kayak with a repair. Kayak rentals include a paddle of similar grade. All kayaks may need additional outfitting before use to make snug fits and be sure all bolts and pieces are present and snugly in place. A G2 paddle refers to a kayak paddle with MSRP <$200.
* Raft : refers to a 4.0-5.0 m (13'-17') SierraRios self-bailer raft or 14'-16' Rocky Mountain self-bailer raft, but could be a 14' or 13' raft as well. 13' rafts are discounted 10% from the normal price.
* Frame : includes an NRS frame, NRS oarlocks, straps, cargo net, three 9' or 10' oars (Cataract or Carlisle), a pair of oar rights, and 1-2 coolers or dryboxes. Frames for the 16' self-bailers are Compact Outfitter, NRS Bighorn I , or NRS Bighorn II (all are 88" long; 66" wide - this width is best with 9' oars). Frames for the catarafts are NRS Universal (108" long; 66" wide) or Top Cat (120" long; 72" wide; only one footbar; best with 10' oars).
* Cataraft : refers to 4.0-5.0 m (14' or 16') tubes, while the frame is a Top Cat (120" long; 72" wide; only one footbar; best with 10' oars), NRS Universal (108" long; 66" wide) or Sport Cat type (88" long; 66" wide).
* Full kitchen : includes 2 large folding tables; 1 roll-a-table; 2 coolers/dryboxes with a set of pots, pans, serving bowls, cutting boards, bowls, plates, cups, utensils, knives; 1 large Dutch oven; 2 lanterns + extra D batteries; 1 machete; 1 large thermos; 1 French press; 2 two-burner stoves (or sometimes a 4-burner Partner stove); 2 propane tank(s), 1 dish drying bag; 1 rain tarp (16' NRS river wing or 16' Kelty Noah's tarp); 3 dishwash tubs; 2 handwash systems; 2 handwash buckets (5 gal); 1 toilet; 1 shovel
* Water purification system : includes 1 Katadyn Expedition filter; 1 water purification kit (droppers, alum, bleach); 1 NRS tuff-sack drybag; 2 water collection buckets (5 gal); 2 clear water jugs (20L); 2 water bags (20L);
* SP box : "Sat Phone and Solar Panels" is a 20mm rocket box that includes 1 Inmarsat satellite phone (one minute voice or two texts included per day of rental; beyond that it's $1.50/minute voice or $.50 per text); 1 Goal Zero Sherpa100 charger/inverter; 2 Nomad20 solar panels; The sat phone works in the entire canyon (it uses a geostationary satellite over the equator) and calls/texts can be to anywhere in the world. The Goal Zero system allows recharging any device on standard AC plugs.

* Tent : is generally a Marmot 2-person or Slumberjack 2-person self-standing variety or equivalent; the 4-man tents are either Slumberjack, Marmot, SierraDesigns or MountainSmith.

* Therm-a-Rest : is generally a 1.5" inflatable Therm-a-rest or equivalent with a chair kit or lounger kit

* Paco Pad : refers to the standard Large size Paco Pad or a similar PVC encapsulated foam mattress (NRS or GGC) that is 6' long and usually 1.5" thick

* Camp chair : refers to a Coleman-type or Helinox-type chair that is foldable and upright; note that a PacoPad/CampChair combination is needed for most comfort but can be substituted by one Therm-a-rest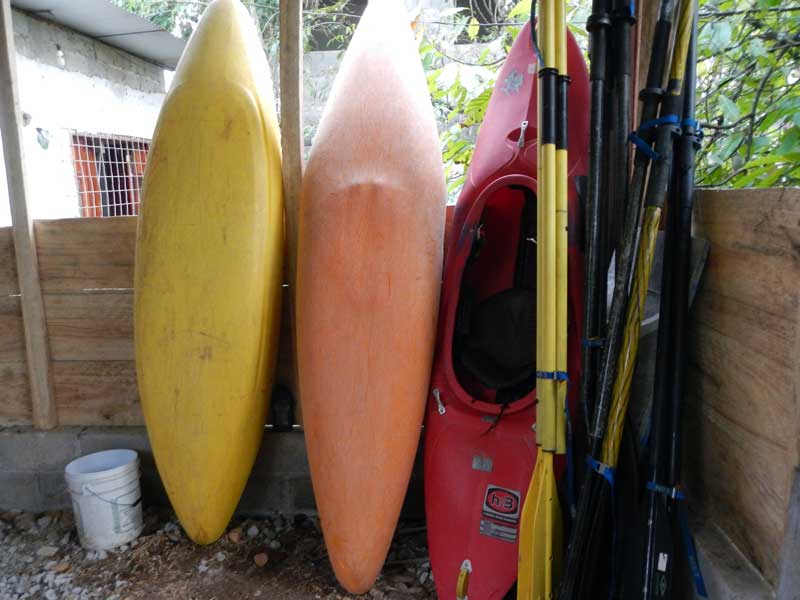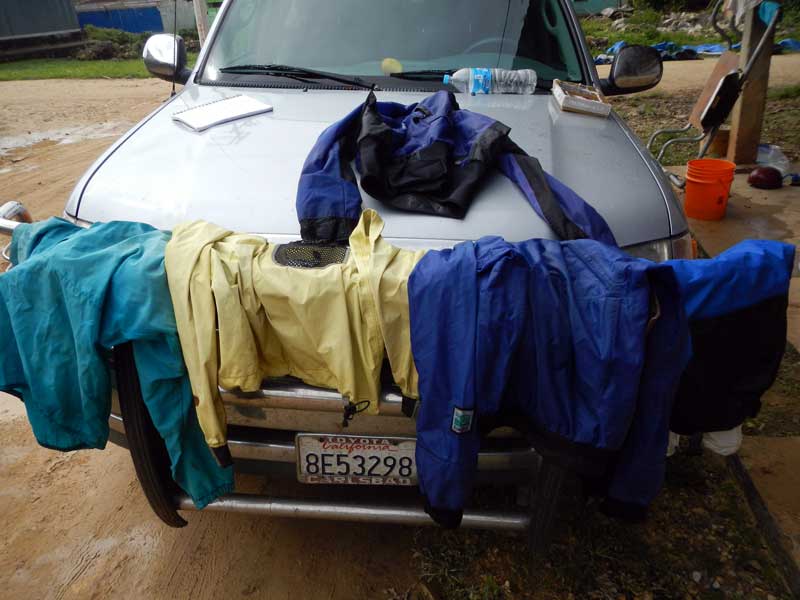 Kayaks available in Chiapas. Paddle jackets available in Chiapas.
CARE:
You are expected to care for the item and not damage it. Hard bangs while kayaking (such as hitting rocks while dropping falls at Agua Azul) can easily crack kayaks. Paddle blades can be cracked or broken. IKs may develop punctures. You will be responsible for damage.


LOCATIONS:
In Chiapas, kayaks may be stored in Palenque or Frontera. Some are available all year. Others may be available only during the prime season (Dec-Apr). In Peru, kayaks will be stored in Lima, Huaraz, Cusco, or Arequipa. If any kayak or equipment is neded on a SierraRios trip, it may not be available to rent.


DEPOSIT:
A damage/loss deposit may be requested in some cases (varies depending on the likelihood of damage/loss). This deposit will be returned once the gear is returned and assessed for damage. Larger deposits can be made by providing a credit card and authorization to charge in the event of lost or damaged rental gear [see Payments].


RENTAL PERIOD:
You are assessed rental charges from the time of day you pick up an item to the same time of day when you return them (for rentals of <7 days). For rentals >7 days, the pick-up day is not counted. All items must be returned clean. Don't leave mud/dirt/grime or extra fees will be assessed.


DAMAGED/LOST ITEMS:
If the item is not returned, you will be charged for the MSRP replacement cost plus extra to cover tax, shipping and importation fees for bringing the replacement from the USA (shipping and importation fees can be very high). Upon return of an item, you will be asked to declare if any damage occurred while you were using it. If you fail to declare damage which is assessed later, you will be charged 2X the damage fees below. [suggestion: don't lie, declare all damage up front]
lost kayak: MSRP (G1), $800 (G2), $600 (G3)
crack or hole in kayak: $250 (G1), $200 (G2), $150 (G3)
lost/broken paddle: MSRP of paddle ($335 Werner Sherpa or AT Eddy; $235 Player or AT glass; $140 Rio)
large crack in paddle (repairable): $150 (G1), $60 (G2)
small crack in paddle: $75 (G1), $30 (G2)
punctured IK or raft: $100 (small puncture); $200-300 (larger puncture); MSRP (blown from over-inflation)
blown gaskets: $80 neck; $40 each wrist
torn tent/jacket: 10-50% MSRP depending on damage
returned wet/dirty: $30-150 per item depending on how bad


RIVERS TO CONSIDER:
It's best to get a guidebook to the region you're interested in and use that to figure out your plan. Or you can check out some of the bigger raft-support rivers to consider paddling (note a local guide is required to venture into the Lacanjá, and strongly recommended for the Jataté and Usumacinta):
Various rivers in Chiapas (summary/slideshows)
More info: rivers in Chiapas (summaries- MayanWhitewater)



PERU
There are numerous other paddling options in Peru, including the Marañon, Colca, Cotahuasi, Apurimac, Pampas-Apurimac or Urubamba. Other runs are described by Kurt Casey at www.PeruWhitewater.com.


GOAL:
SierraRios realizes that many people love to enjoy free-flowing rivers, but these rivers are threatened by dams and pollution. You must agree with SierraRios' conservation goals and take some steps toward protection of the river you experience. You are encouraged to explore, enjoy, and then make the clean free-flowing river known: share photos, write articles, post trip reports on boater forums, email everyone you know, and tell friends! [SierraRios expects to see trip reports posted or published] Only by developing appreciation of these rivers will they be protected from dams and pollution!!!




RESERVATIONS:
To make a rental reservation, click RESERVE and write the item(s) you'd like to rent, when you'd like to rent them, what river you are intending to paddle, and the calculated price and deposit. You may be requested to make two money transfers: one for the rental amount, and the other for the deposit (preferably PayPal or credit card). To make your payments/donations, see the options at PAYMENTS