SierraRios: Training Local Guides Program
Part of SierraRios mission is to help communities along rivers appreciate their free-flowing river and benefit from it. One way that can be sustainably accomplished is through guide training programs. What local community wants a bunch of foreigners coming in and guiding other foreigners on their rivers anyway?? SierraRios understands that it is best to let the the residents of the area gain employment and show tourists around their own stomping grounds! This will increase appreciation of the free-flowing river, and lead to a flow of income to the local area that is sustainable. SierraRios needs support to implement more guide training programs!
Read about just two guides in training below [SierraRios is working with many other individuals to help make trips a reality in their areas, providing food pack services, shuttles, and storage facilities. This is just a peek into SierraRios activities.
USUMACINTA:
The beginnings of a guide training program were initiated for bilingual Spanish/Chol-speaking residents of Frontera (and possibly Arroyo Jerusalen). So far two hombres took the big leap of faith to journey down the river with Rocky. [there is a lot of fear among the residents of the rapids/whirlpools in the Gran Cañon de San José]. The presidente de Frontera (pictured with Rocky below) is glad to see such a program started in his community.
Shown to right: Gregorio Mendez Alvaro (presidente de Frontera Corozal) and Rocky Contos (Director of SierraRios) after conversing about expanding raft/kayak operations in Frontera.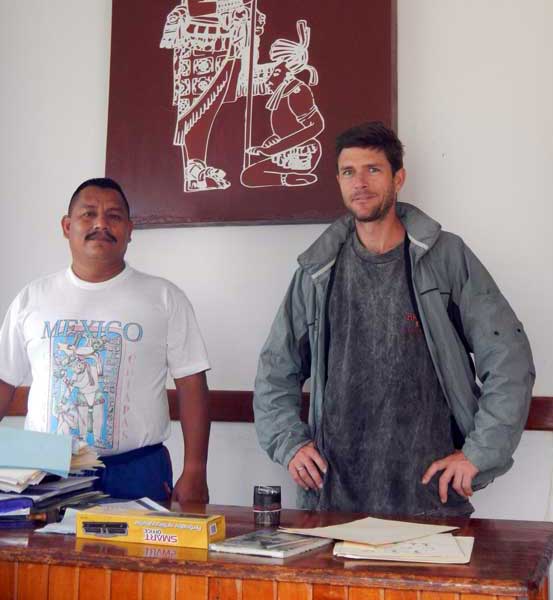 SON SUNCIÓN LOPEZ ON THE USUMACINTA
Sunción was already familiar with the river and water, having lived by it his whole life. Although he's fished the river a lot, built balsa rafts to cross and float down, and rescued others who were apparently drowning in Rios Usumacinta and Chacamax, he never did row a standard raft or cataraft before the Jan.2013 trip led by Rocky. He first met Rocky the previous year, being hired to shuttle vehicles with his brothers and nephew Robelio Gomez. Sunción took an interest when Rocky invited some young adventurous Fronterans to learn how to row and guide, so when the opportunity arose on a Jan.2013 trip led by Rocky, Sunción jumped at the chance.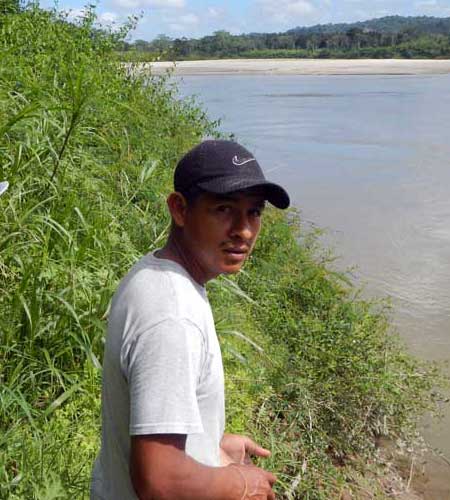 Rocky says: "Sunción was a natural at rowing. He had his coordination down very quickly and could maneuver the raft into beaches as I requested. In the rapids of Chicozapote, Cola del Diablo, and the big ones in the Gran Cañon de San José, he properly lined up and charged the waves head-on. In camps, after learning a bit about it all, he was very helpful setting up the tables, stoves, rain tarps, and everything. He was great at cooking too. Sunción also offered part of his house to store the rafts and gear. I see Sunción becoming one of the mainstay guides in the SierraRios Usumacinta program."
However, Sunción didn't have any gear of his own. He slept outside under a make-shift tarp during the trip, and suffered from some of the pesky jejenes bites. Sunción and others like him need support to comfortably run trips, to continue to learn how to be good guides, and to learn English in order to communicate with participants. He needs instructors to teach him more about kayaking, rafting, swiftwater rescue, and first aid. He needs equipment to practice. He needs his own camping gear. It's not free. Donate to SierraRios and you will be supporting training programs for Sunción and others.
SierraRios needs skilled guides to help train people like Sunción. With significant donations to SierraRios, there might be some funding to expand these programs!!!
EUSEBIO CHUMPI ON THE MARAÑON:
On the 2012 Marañon trip, we were grateful to have met Eusebio Chumpi and his son, who accompanied Rocky, Barb, and two mestizo friends (Noe and Marco) through the Aguaruna territory to the pueblo of Imacita. It was tense at times, since Eusebio knew that gringos are not generally welcomed by his fellow Aguaruna. But Eusebio took it on himself to see us through safely.
Eusebio had taken motorized lanchas through the major class II, III, and IV pongos in the past (there's over a dozen huge rapids on the section!), and knew the names and lines through each of them. Although he didn't row the cataraft through the big rapids this time, he did take over the oars in the lower flatter section. He said he (and his son) would like to learn more about rowing, row through the big rapids next time, and do the ~250 km trip down through the Pongo de Manseriche when we come back. He and his son are interested in guiding tourists. It is one of the most amazing sections of river in the world, and ideal to offer as a 3-day excursion for tourists, enjoying the river and whitewater while also learning about the Aguaruna culture and the threats they have faced (from settlers, mining, petroleum, and dam companies).
HELP EUSEBIO! DONATE!
Better yet, donate time! Come on the next Marañon trip and meet Eusebio and son for yourself. Set up connections, get him gear and equipment, stay a while with a raft you bring and take Eusebio down several times to teach him more! We still need financial donations. Gear is expensive, not just to purchase but to get down to the Marañon. Trips need to be filled. Advertising costs a lot! Word needs to get out. We need more partners working with us to spread fliers, go to events, give talks. It's NOT FREE!!! If you donate, your money will go a long way toward developing sustainable ecotourism and protection of the free-flowing Marañon and other rivers!!!