HELP US PROTEST THE DAMS ON RÍO MARAÑON!
RESIDENTS OF THE MARAÑON NEED DONATIONS TO STAGE A PROTEST IN LIMA!!!
Please make a donation to help residents along the Marañon travel to Lima and voice their opinion on the dams. This is a grass-roots effort by SierraRios to help these residents preserve their homes and ways of life, as well as protect one of the most beautiful natural canyons on Earth.
On the 2012 SierraRios Marañon trip, we realized that most if not all residents along the river were opposed to the planned hydroelectric dams. The issue is not in the forefront of Peru's news, however, so there is little pressure on President Ollanta Humala to stop the dams. Residents have tried to organize meetings to discuss strategies to protest the dams, but local authorities heard about it and thwarted any such meetings with roadblocks into Cajamarca the day the meeting was to be held (local officials likely were paid off by promoters of the dams).
SierraRios is requesting financial support from you, the world community who cares about protecting natural treasures like the Grand Canyon of the Amazon and wants to help the residents along the free-flowing river protect their homes and lifestyles.
DONATION GOAL: $10000 USD
With success at achieving this conservation goal of $10000, SierraRios will be able to transport 50 residents of the Marañon (from in/near Quiches, Balsas/Mendán, Lonya Grande, and the Aguaruna communities) to travel from their homes to Lima, provide accommodations for 3 nights, and stage a protest outside the federal government buildings for 2-3 days to draw more attention to the issue. Friends and family living in Lima will be recruited for the protest, as well as others interested in taking part. We hope to have >1000 people take part. This will bring the issue of the damming of the Marañon to the forefront of the minds of the Peruvian people, and we hope will result in enough pressure on the government to stop the dam plans.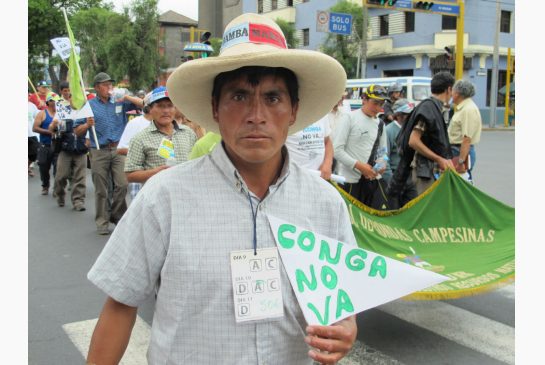 A similar protest occurred recently against the planned mines in Cajamarca (see article here) after residents of the region walked much of the way from Cajamarca to Lima. The mines will contaminate water supplies for Celendín and nearby. We hope the demonstration against the Marañon dams will be even larger and draw more attention.
Make a DONATION today! It's tax-deductible. 90% of donations requested to go toward this issue will be used directly to support the protest (the rest to administrative expenses). If you can help in other ways, please contact SierraRios and let us know. This issue must be addressed quickly before plans get too advanced and foreign dam companies start construction of roads and diversion tunnels! [Note you may also wish to join as a standard member of SierraRios, which entitles you to maps, guidebooks, and DVDs].
DONATION GOAL: $10000 USD