TENTATIVE ITINERARY (Dec-May):
The itinerary below is a general plan for a 6-day trip and a very relaxed pace. This will be the standard itinerary for most trips launching during lower water Dec-May. Some trips may have participants arrive to Frontera the day before launch to have some extra time on the river. High water season trips (Jun-Nov launches) may be only 5 days. For a private group, the itinerary may be modified to anywhere between 4 and 8 days and can include pickups at Villahermosa, Cancún, and visits to Bonampak (before trip), Tikal (after trip), Agua Azul, or other sites.

DAY 0: fly into Villahermosa; transport to Palenque (2 hr); night in Hotel Lacandonia or other
DAY 1: service begins; drive to Frontera from Palenque (3 hr); rig; maybe paddle to beach camp; 0-7 km
DAY 2: arrive to and explore Yaxchilán; camp at or near ruins; class I-II; ~13 km
DAY 3: Chicozapote (III-); Big Springs; arrive to El Playón; class II-III; ~40 km
DAY 4: Jungle lake hike; Rapidos Caribe (II+); Cenote Tumbado; arrive to Piedras Negras; class II+; ~18 km
DAY 5: LAYOVER; explore Piedras Negras, play in the water, RELAX
DAY 6: Cola del Diablo; Cascada Busiljá; Río Chocoljá; enter Gran Cañon; La Linea; Whirlpool; class III; 38 km
DAY 7: finish Gran Cañon; San José; San Josecito; class III; de-rig (2-3 hr); dinner in Palenque; 26 km [service ends]
DAY 7 (extra): visit Palenque ruins or Cascadas Agua Azul; dinner at El Panchán; Don Mucho live music

DAY 0: If flying, you should arrive to Villahermosa or Palenque this day or earlier. You can take a taxi/bus (1.6 hr) to your hotel in Palenque and meet the trip leader. There are ATMs available to get Mexican pesos (MXN).
DAY 1: This is the departure/launch day. Most groups will rendezvous during breakfast at Hotel Lacandonia at 8 am where we'll load into the van for the 3-hr drive to Frontera Corozal (our put-in on the Mexican side of the Usumacinta). At the put-in, we'll finish rigging the rafts, adjust kayaks, have a safety talk, and usually camp at Frontera (or stay in bungalows of Escudo Jaguar or Nueva Alianza). [Some trips may have the group arrive to Frontera early on Day2 and launch in the afternoon.] Note that you can leave valuables either at the SierraRios depot in Palenque or in the vehicles, which should be safe with our shuttle drivers in Frontera until the day we take-out. Spaghetti. 0-7 km
DAY 2: We will paddle to and spend several hours at Yaxchilán ruins. We usually will camp at Yaxchilán (we have a special arragnement with the park) or downstream 7 km (km 27). We'll have a traditional Mayan/Mexican feast of tamales/burritos this evening. ~20 km
DAY 3: We paddle through the first big rapids of the trip (Chicozapote; class II-III), pass Big Springs where we'll refill water, bathe and swim, and make it down to the giant El Playón beach. Steak/salmon. ~40 km
DAY 4: Often we'll go on a hike into the jungle to a quaint clear lagoon that is nice to take a swim in. After returning to the boats and having lunch, we'll continue downstream, pass the village of Arroyo Jerusalén, negotiate more class II rapids in a scenic gorge, stop to explore and jump in the water at the Cenote Tumbado, and set up camp at the beach by Piedras Negras. Fajitas. ~18 km
DAY 5: LAYOVER. We'll check in with the military and caretakers at Piedras Negras and spend the day hiking around the ruins, the dry cenote, and jungle, then playing in the water, practicing kayak rolls and other paddling techniques, or simply relaxing in camp. Lasagna or enchiladas; 0 km
DAY 6: We'll pass El Porvenir then enter a class II gorge with Cola del Diablo rapid, and arrive at and explore the beautiful travertine waterfalls of Busiljá that cascade directly into the Usumacinta. After lunch, we continue downstream, sometimes stopping to explore/kayak the final five drops on Río Chocoljá (if there are interested kayakers on the trip; to do so requires a paddle/hike upstream). We then enter the main Gran Cañon de San José and paddle through several big rapids: La Linea (III+), Baluarte (II-III) and Whirlpool (III-). We'll set up camp a more open section before the next gorge and big rapids. Lentils / maybe fish. ~35 km
DAY 7: We'll paddle through the final part of the Gran Cañon San José with two of the biggest rapids the river has to offer: San Josécito (III) and San José (III+), and then the final rapid, White Wall (II). The remainder of the river has no rapids as it goes through the final gorge at Boca del Cerro, but we may still stop at a crystal clear side stream for a swim and/or explore a cave where the gigantic Boca del Cerro/Tenosique dam is to be built. We'll then arrive at the take-out around mid-day, de-rig, clean and dry items (~2 hr), and drive back to Palenque (1.5 hr). Restaurant Palenque; ~30 km
SERVICE ENDS upon return to Palenque. Folks will generally stay at a hotel in Palenque or in cabañas at El Panchán. Optional excursions to Palenque ruins and/or Agua Azul often are scheduled the following day. The group usually gathers for a restaurant dinner the day after at Don Mucho's to listen to live music, dance, and enjoy the fire show. It is possible for participants to depart.
DAY BEFORE OR AFTER: Often folks will want to visit the ruins of Palenque or visit Cascadas Agua Azul, which are fun and more economically arranged as a group. Also with advance notice and approval, it may be possible to arrange kayak/raft runs of Ríos Shumuljá (class III), Agua Azul (class IV-V), Chacamax (class III), Chocoljá (class II-III), or other rivers in the area.
We will help arrange to get you back to the Villahermosa airport if you need to, but it's not covered in the price of the trip. It is a 1 hr 40min drive. Generally, a taxi is 900-1200p; ADO offers a convenient bus service at 278p and there are collectivos that can take you there for ~200p most times of the day.


TRANSPORTATION
The trip contribution includes getting you from Palenque to Frontera (the put-in) and back to Palenque from the take-out. Palenque is a small city with many hotels and restaurants and is the base for many travelers visiting the ruins of Palenque, Bonampak, Yaxchilán, and the Cascadas Agua Azul and Misol-Ha. If arriving by plane, there are several airports to consider flying to:
Palenque (PQM) airport is small and only serviced by Interjet to/from Mexico City (flights 2X per week). If you're based in Mexico City, this is a convenient option. If you are flying from the USA or Europe, it is much easier to find flights into Villahermosa.
Villahermosa (VSA) airport is a 1.7 hr drive ride from Palenque. VSA is serviced by United, American, AeroMexico, Volaris, VivaAerobus and other Mexico-based carriers (also as partner airlines). If several of the group are arriving at VSA airport, we can arrange to pick you up (a little extra fee), but you can always get a taxi from there to Palenque (~1600p) or take the ADO bus service (278p; generally departs every hour from 7am - 9pm). If you have a vehicle, you can meet us in Palenque and possibly get a discount for use of your vehicle in shuttle.
Tuxtla Gutiérrez (TGZ) airport is approximately a 5 hr drive from Palenque. The route between Tuxtla and Palenque passes San Cristóbal de las Casas, a charming colonial city very popular with tourists, and the Cascadas Agua Azul, another of the major tourist destinations in the region.
Cancún (CUN) airport has international flights from just about everywhere, is serviced by most international US carriers, and generally is the most inexpensive to fly to. Although it is pretty far away (~10 hr by bus to get to Palenque), you would get to see more of the attractions on the Yucatán peninsula, including it's famed beaches, cenotes, and various post-classic Mayan sites (Chichén Itzá, Uxmal, and Tulum, for example) before or after the trip. If you have a group arriving to Cancún, we might be able to arrange a special van to take you to some of the peninsular sites and then to Palenque and the river.


COST
This trip is being run to increase appreciation of the river and help preserve this unique natural resource. We welcome everyone: raft passengers, raft paddlers, raft rowers, kayakers, IKers, and guides. The pricing policy has been carefully considered and takes into account the costs associated with running the trip, the services offered, and what other outfitters charge for similar long multi-day raft trips. While typical rates are ~$1800 for a 6-day MF Salmon River trip, you can see that our rates for similar length trips where everything is taken care of are considerably lower:

webpage: TRIP COSTS

We strongly encourage potential participants to offer the general contribution rate if possible (some discounts may apply). Special discounts are sometimes offered to folks on our email list, so you are encouraged to sign up (Email List info).

PAYMENTS / RESERVATIONS
If interested in joining a trip, you can make a deposit at PAYMENTS for payment options. Include a note with a little info about yourself. You will get a link to your email address to fill out an INFO FORM asking for contact info, emergency contact info, food/drink preferences, additional rentals, and a short introduction of yourself and paddling experience. The balance for the trip is due 2 weeks prior to trip departure date (see TRIP COSTS for what's included and what's not. See PAYMENTS for payment options.)

A trip will definitely occur with a minimum of 4 full-paying participants. Other launch dates can be arranged for groups of 4 or more. For small groups wishing to minimize costs by sharing expenses and with a certain launch date in mind, we can list the additional launch date here to see if others might be interested in joining to make a full trip.

To make a deposit and/or payment, click PAYMENTS.
TRIP LEADERS (one or more of the following individuals):

The policy we will take on the trip is that the trip leader will have main authority when it comes to decisions for the group regarding river progress, camp, etc. If a participant has overestimated their ability to row or kayak, he/she may be mandated to ride on a raft and/or be assessed other penalties. Trip leader decisions can be vetoed by a majority vote of the group. If you are concerned about this issue and are an experienced boater, consider arranging your own group with our outfitting services.
(1) Rocky Contos, often the trip leader, is fluent in Spanish, explored nearly every river in Mexico, solo kayaked the entire Jataté-Lacantún-Usumacinta in early 2010, successfully led raft/kayak trips down the Usumacinta in Dec2011, Jan2012, Dec2012, Jan2013, Mar2013, Dec2013, Mar2014, Dec2014, May2015 (2X), Dec2015, Jan2016, co-authored the guidebooks to Chiapas and the Sierra Madre Occidental, and is preparing guidebooks for the rest of Mexico. In Mexico, Rocky has ~200 probable first descents covering ~8,000 km of river and ~55,000 m of drop and has paddled nearly every river in the country. He has paddled over 160 multi-day journeys on rivers, with dozens in the range of 5-22 days. While attaining his Ph.D. in neuroscience, Rocky worked as a kayak instructor and guide for UCSD's Outback adventures from 1993-1996 and gained valuable trip planning skills for large groups. Although primarily a kayaker, Rocky started rafting in the mid-1990s in order to introduce more people to the wonders of river travel. Since then and throughout his years as a postdoctoral research associate, he organized numerous large group raft and kayak expeditions, including five through Grand Canyon (18-22 days), two on the Salmon River (4-10 days each), and dozens to destinations such as the Salt, Kern, Rogue, Deschutes, John Day, Thompson, Similkameen, and Baja (2-6 days each). Rocky founded SierraRios with the goal of conserving the rivers of Mexico, and hopes that increased awareness and enjoyment of the resource will lead to protection. Rocky is certified in swiftwater rescue (RRC-Pro from SierraRescue3) and WFR (Wilderness First Responder). He is the primary organizer of this trip and will either be safety kayaking or rowing/captaining a raft.

(2) Sunción Lopez (Local Chol guide). Sunción will generally help guide and/or lead all future Usumacinta trips. Sunción came on a January 2013 Usumacinta trip and learned much about the river and rowing. He was a natural. His Chol bilinguality and familiarity with residents along the river adds safety to any trip and he provides additional information on points of interest and the flora/fauna of the jungle. Since that first trip, he's helped guide 8 more Usumacinta trips, a Lacanjá-Lacantún trip, Shumuljá trips, has paddled several rivers in central Mexico, and continues to aspire to be a great guide. Read more about Sunción here.

(3) René Lopez (Local Chol guide). René is Sunción's nephew and also did his first trip in 2012. He doesn't speak English, but rows well, is a hard worker, is employed at the Yaxchilán reserve where is found much of the year, and is happy to talk to you in Spanish. So far (Jul2016), René has helped guide 8 trips down the Usumacinta. .

(4) Uriel Valdez (Mexican guide), sometimes trip leader or co-leader, is a bilingual raft guide from Cuernavaca who has helped guide the Usumacinta >8X times. Uriel will be found rowing a raft or kayaking if there are sufficient other oarsmen along.

(5) German Arroyo (Mexican guide), sometimes trip leader or co-leader, is a bilingual raft guide from Mexico City who has paddled the Usumacinta eight times and co-guided or organized several SierraRios Usumacinta trips. He will usually be rowing a raft, but can also kayak the river if an appropriate oarsperson takes the helm of his raft.


HEALTH
Guides trained in wilderness first aid will provide medical attention to those suffering illness or injury. We will have one major first aid kit and one minor kit. Our first aid kit will have some pharmaceuticals such as ibuprofen, anti-allergy pills, immodium, and possibly antibiotics. If you think you might suffer from something in particular, please bring your own pharmaceuticals. Probably the most common ailment folks suffer from is gastrointestinal distress or traveler's diarrhea. You should try to minimize chances of contracting it by avoiding potentially dirty foods before the trip. During the trip, we employ NPS-recommended sanitization methods in all our food and water preparations/treatments. If you do end up suffering diarrhea, vomiting, and/or nausea for more than a day, you should consider taking ciprofloxacin for a few days (this generally makes the problem go away quickly).

Río Usumacinta is located in the jungles of Chiapas with certain health risks. We recommend that you read the CDC page regarding travel to Mexico and to Guatemala (because the Usumacinta runs along the border of both countries), consider the health advice, and visit your doctor before your trip. In general, visitors to the jungle areas of Chiapas should be vaccinated against Hepatitis A and possibly Typhoid. You might consider getting Rabies immunization as well. Although the area has had cases of Malaria, we generally encounter few mosquitos on the trip and you can protect yourself with repellent, clothes and by sleeping in a tent. To be extra cautious, you might consider anti-malarial medication.

In the event of a critical injury, we will raft the person to the nearest road access and contract a ride out. We will carry a cell phone, satellite phone, and/or SPOT device for communicaton regarding emergencies and changes of plan. Evacuation and medical costs are the responsibility of the participant. We therefore highly recommend that all participants obtain a travel insurance policy such as those offered through Squaremouth, Tavelguard, or Travelsafe.


SAFETY & LIABILITY
All participants on the expedition will be required to sign a liability release similar to those for any outfitter. As guides, we are there to help get you safely to the river, down it, and back out, but due to the inherent risk of whitewater expeditions, we cannot guarantee against accidents, espcially if you are in control of your craft. If you are concerned about the whitewater or other aspects on this river, it is ultimately your responsibility to make appropriate decisions whether to run the rapid or not and to stay close to someone who can watch and oversee you (if you desire that level of protection). If an accident occurs, we will do all in our power to help you, see that proper care is rendered, or evacuate you if need be. Other problems may occur that are out of our control. Again, we highly recommend that all participants obtain a travel insurance policy (see Squaremouth, Tavelguard, or Travelsafe). You are responsible for personal equipment loss, missed flights, and evacuation/medical costs.

The Usumacinta is generally a safe place these days, owing to the facts that the Guatemalan civil war and Zapatista uprising are distant memories, caretakers/guards/police are stationed at the Mexican reserves, and the Guatemalan military is now stationed by Piedras Negras and regularly travel up and down the river. Thousands of tourists travel down the river each year on motorized lancha to visit Yaxchilán. Although we have never had assaults or problems on any Usumacinta trip run by SierraRios (a total of 25 trips run between 2010-2018), we continue to take several precautions to avoid any problems, including (a) having local Chol-speaking guides along on our trip, (b) selecting safer camps, (c) avoiding areas that might be prone to bandidos/assault, (d) knowing the current situation in the area, and (e) paying for special security for guardianship. We strongly recommend against anyone venturing down the river without taking such precautions.

You might be concerned about the violence in Mexico surrounding the drug war that has been in the news a lot in the past decade. This violence is generally restricted to drug traffickers (narcos) and those associated with them, including law enforcement. As such, we are not likely to be harassed or molested in any way related to the drug war. For further discussion of the drug war and safety concerns, click here.


CLIMATE
Consult the climate chart to get an idea of what the weather might be like on the trip you plan to join. Dec-Jan are semi-dry times of the year with usually warm temperatures but some chance of storms. Feb-Mar-Apr are generally the driest months and getting very warm. In general, highs can be expected to be 24-33oC (76-92oF) and lows 17-24oC (62-76oF). When there are northern cold fronts blowing through, the highs can be as low as 70oF and it can be quite rainy. From Feb-Apr, there is less chance of rain, days are sunnier, and the temperatures are generally quite a bit higher. In the rainy season (Jun-Nov) expect lots of clouds and more rain. The water temperature in the river from Dec-Jun generally reflects the average temperature of the air.
Below are averages for Estación Chajul (near Frontera, though the climate is similar for Tenosique; a bit less rain overall as one progresses down the Usumacinta):
| | | | | | | | | | | | | | |
| --- | --- | --- | --- | --- | --- | --- | --- | --- | --- | --- | --- | --- | --- |
| | Jan | Feb | Mar | Apr | May | Jun | Jul | Aug | Sep | Oct | Nov | Dec | Avg |
| AvgHigh(F) | 80 | 83 | 87 | 91 | 92 | 91 | 91 | 90 | 88 | 86 | 83 | 80 | 86 |
| AvgLow(F) | 66 | 67 | 69 | 71 | 74 | 74 | 74 | 74 | 74 | 72 | 70 | 67 | 70 |
| AvgPrecip(in) | 3.8 | 2.7 | 2.2 | 2.2 | 6.0 | 16.0 | 18.7 | 19.2 | 22.5 | 15.9 | 8.3 | 5.5 | 11 |
| AvgRainDays | 11 | 9 | 5 | 6 | 10 | 22 | 24 | 25 | 22 | 21 | 16 | 15 | 16 |
| AvgFlow(cfs) | 45000 | 37000 | 31000 | 25000 | 25000 | 55000 | 88000 | 88000 | 105000 | 110000 | 92000 | 65000 | 62000 |
BUGS
You should take precautions against bug bites. Midges (aka no-see-ems; jejenes), chiggers, and mosquitos are the most frequent culprits. PROTECT YOURSELF and you won't suffer so much! Put on repellent at the put-in and as soon as we land at camp or the take-out, and also in the morning after getting out of your tent. Wear light airy pants and long-sleeve shirts. Choose Bugs-Away clothing or make your own by soaking your clothing in permethrin. Avoid walking around grass where cattle are common and chiggers hang out. Note: if you're not immunologically adapted to the area, the midge bites often lead to very itchy red welts!


WATER LEVELS
Water levels on the Usumacinta are generally medium in Dec-Jan, and low Feb-May. Low water is nice in the sense that more beaches are exposed, the river runs clearer, and there are more features in rapids such as surf waves. The river can be done any time of year though, and most of the river is not much more difficult at high water, though bigger whirlpools develop, swims in the rapids can be very dangerous, and some camps will not be available (be extra careful in the Gran Cañon de San José, where huge whirlpools can develop at high water and flip even 16' rafts!).
Historical flow hydrographs for the Usumacinta and some upstream tributaries can be viewed at the following links:
Historical flow: Usumacinta (Boca del Cerro)
Historical flow: Lacantún (Agua Verde II)
Historical flow: Chixoy/Salinas
Historical flow: Ixcán
Historical flow: Xalbal/Chajul

You can see the water levels over the past few weeks at Greg Schwendinger's Mayan Whitewater website (scroll down once you load it). Below you can see the average flows through the year (note 1000 cms = 35000 cfs):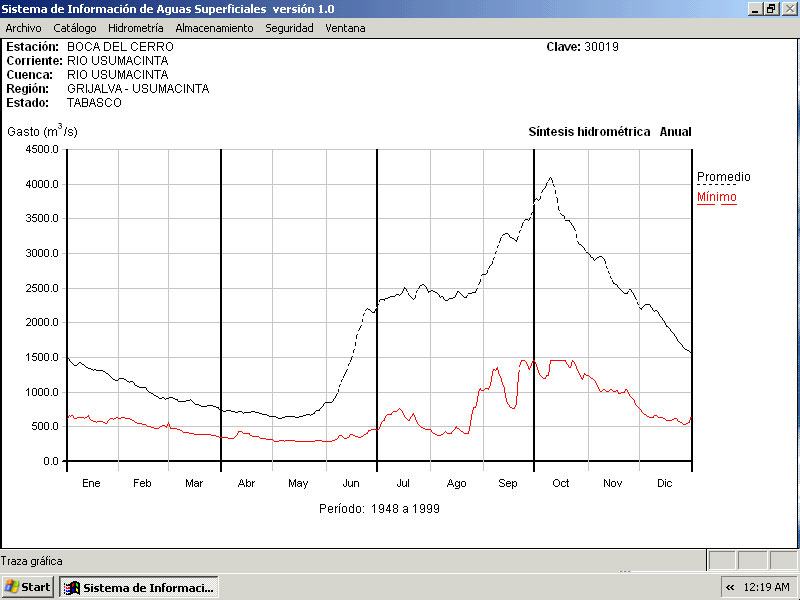 FOOD/ALCOHOL/WATER
(click here)

CHORES, TOILET AND BATHING
(click here)

WHAT TO PACK:
(click here)

KAYAKS, IKs, and RAFTS AVAILABLE FOR THIS TRIP
(click here)


PLANNED DAMS FOR THE USUMACINTA
VOICE OPPOSITION TO THE TENOSIQUE DAM! Sign a petition against the dams. Send your comments to Presidente Enrique Peña Nieto. A sample letter is below (the one I sent):
----------------------------------------------------------------------------------------------------------------

.A FEW COMMENTS FROM PAST PARTICIPANTS:


"Beautiful river with a ton of great "extras": ruins, wildlife, waterfalls, etc. The rapids were pretty doable, but for me the whirlpools were a new thing and pretty crazy (especially in the packraft). I chose to take photos from atop rafts for the last couple of days, but Bryan rode the whole river in his packraft. Awesome side excursions, the boys loved riding up the Chocolja river and running the last couple of rapids." [30Dec2016 Usumacinta trip]
Molly Ferrer; school board Denver and rafter/packrafter


"Hi Rocky, Thanks again for a sensational and unforgettable trip. You did such an amazing job organizing. I especially am psyched to have met you and to have another kayak friend/guide to work with. You guiding me off the waterfall was a big highlight... Erik." [2011b Usumacinta trip]
Erik Weihenmayer, blind mountaineer/author and budding kayaker (see www.TouchTheTop.com )


"You led one of the best trips I've ever been on... and I've been on a lot. " [2011b Usumacinta trip]
Chris Wiegand, former olympic runner and C1 paddler, founder of Sportainability and guide for Erik Weihenmayer

"Thanks for everything man, it was a trip of a lifetime ... We´ll be in touch and I look forward to conquering new rivers in the future. Salud, Eric" [2011b Usumacinta trip]
Eric Bach, Modern Gypsy (see www.TheModernGypsies.com)


"Hey Rocky, Thanks for the great trip... Looking forward to another trip down the road. John" [2011b Usumacinta trip]
John Post, Modern Gypsy (see www.TheModernGypsies.com)


"Fabulous trip. Expect to hear more from Team Weihenmayer in the future... Cheers, Rob. " [2011b Usumacinta trip]
Rob Raker, climber extraordinaire and guide for Erik Weihenmayer (also see here)


"Thanks again for the great tour and the late-night excitement, Greg" [2011a Usumacinta trip]
Greg Scwhendinger, kayak explorer of Chiapas and Central America (see www.MayanWhitewater.com)


"The trip on the Usumacinta was great, I am very happy that I paddled the river and did not sit on the raft." [2013a Usumacinta trip]
Stanislav Chladek, former C1 world champion and author of Exploring Mayan Ritual Caves

"Thanks for everything, Rocky! What a blast that all was. When's our next trip?!! -Suzy" [2011b Usumacinta trip]
Suzy Garren (Oakland, CA), former Grand Canyon trip participant.